Acme Circuit Boards Assembly starting doing electronics contract manufacturing for SMT assembly (SMTA) since year 1994. Manufacturing in Carson which is in 10 miles south of Los Angeles airport, CA. ISO 9001:2008 certified is a guarantee for all right process at EMS.
High speed pick & place machine set up for all median to large run SMT assembly (SMTA). It includes Fuji assembly line. X-ray inspection for high quality SMT Assembly (SMTA) purpose. Amistar fine pitch can go down to 12 mil SMT fine pitch components and Fuji PQF pick & place machine give us more flexibility for small run, and prototype board build up. We can do IPC 610 Class III if customer required, otherwise, all the PCB assembly (PCBA) followed by IPC 610 class II standard.
As usual, We keep additional capacity, shorter time-to-market and State-of-the-art manufacturing capabilities. Fuji NXT Surface Mount Technology (SMT) pick and place machine give us the capability to working on Surface Mount Technology (SMT) component package smaller than 01 005 which is 1/4 size of 0201 component.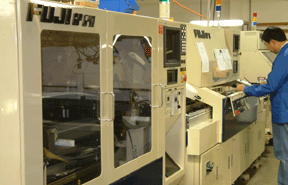 PCB shape and fiducial mark and other requirement is important for SMTA(A Fidutial Mark is an optical marker used as a reference by automated pick and place machine to ensure accurate placement of surface mount components).
Reflow Pad design, Trace, and Via, please check PCB Design for PADs, Vias, and Traces
Board size should be less than 18.5 inch x 14 inch for SMTA.
Board thickness need between 20 mil to 160 mil for SMTA.
Fiducial mark is a foil element on a Printed Circuit Board that is viewed by machine vision to determine the location of the (pad) pattern on the PCB. This allows a shown in their proper location. For the best results place fiducials near the bottom (more than 0.5 inch from the bottom) as far apart as possible, but not more than 13 inch apart. Put the first fiducial near the leading edge of the PCB. Please review Fiducial Mark requirement for more information.
The Preferred Surface Mount Technology (SMT) board is one which has Surface Mount Technology (SMT) components on one side only. If all of the components are not available in Surface Mount Technology (SMT) form, Thru-hoe components on the same side as Surface Mount Technology (SMT) components is an acceptable solution
Surface Mount Technology (SMT) components may be placed on both sides of the Printed Circuit Board (PCB) with additional components are also on the Printed Circuit Board (PCB); or if Surface Mount Technology (SMT) components are on one side of the board, and Thru hole components are on the other side, please contact our manufacturing engineer for specific guidelines for your application.
In SMT assembly process, All Foil near a Surface Mount Technology (SMT) pad must be covered with solder mask, especially any traces that pass between components pads.
For Kit assembly orders, please send 5% parts or 5 pcs extra, whichever is more, for discrete component. For active parts, please send 1% or 1 pc extra, whichever is more. Unused active parts will be returned to the customer.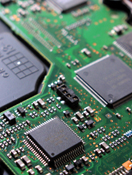 We need following files for PCB assembly orders:
BOM (Bill of Material) in Microsoft Excel format. For any component not to be placed, please mark "NP" (Not Plated). The BOM should include at least (1) Reference designators such as U1, R3; (2) Quantities; (3) Manufacture part numbers; (4) Foot prints (package shapes; (5) Values.
Gerber files
For SMT Assembly process; Pick & Place file if automated machine placement is required. We may help generate the P&P file for you from your Gerber files but the P&P file generated from your CAD is the most preferred.
Silkscreen file with markings on polarity and pin-1 positions.
SMD (surface mount device) is for SMT assembly process & through-hole device assembly.
SMT passive parts smaller as 01 005 package size for our SMT Assembly process.
BGA and micro BGA assembly (minimum BGA SMT assembly, pitch 0.3 mm)